Animal Rescue
Rescue of stray, emaciated, injured, sick or starving animals.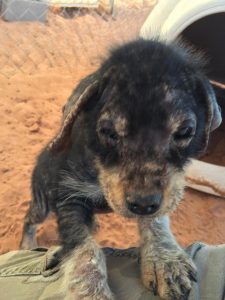 There are a lot of stray dogs on the Navajo Nation and very few veterinary clinics, with few resources for spay/neuter surgeries. There is a high prevalence of Parvo/Distemper, especially in vulnerable puppies, brown dog ticks, tick-related diseases, untreated injuries, abandoned and emaciated animals, sarcoptic mange, and other diseases common in areas with a lot of stray dogs. There are a lot of suffering animals and very little to no infrastructure to address these issues.
All of our rescued animals receive veterinary care, provided by our main service provider, Desert View Veterinary Clinic, in Tuba City, with Dr. Carol Holgate. Veterinary costs of rescue are mainly funded through donations from the public, with some assistance of grant funds. The average veterinary cost for each rescued animal is $155. (2015-16). Adoption fees partially offset our costs and enable us to continue to rescue.
Grant Funded Subsidized Low-Cost Spay/Neuter Program
Every year we apply for grants in order to provide a program of subsidized low-cost spay/neuter services to the public in Tuba City. In the past, we have been very fortunate to receive grant funding from the Tuba City Community Fund and azpetplates.org, which has enabled us to offer this program. We generally run out of these funds very quickly, and we are always looking for a way to extend what we can offer. Our goal is to offer this program year-round. Subsidized low-cost spay/neuter services are offered to the public in Tuba City and surrounding areas from our main veterinary services provider, Desert View Veterinary Clinic.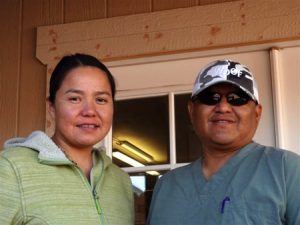 Dr. Carol Holgate, DVM, and her husband Elward Holgate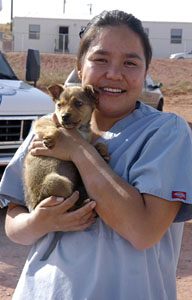 Low-cost spay/neuter services are one of the primary tools to reduce animal overpopulation and combat pet homelessness. If you would like to donate to our fund and earmark funds for these programs, please do not hesitate to contact us.
Low-Cost Accessible Mobile Spay/Neuter and Vaccination Clinics
In 2021, we began sponsoring clinics with The Parker Project, who brings very low-cost mobile spay/neuter and vaccination clinics to Tuba City. Below is a copy of the May, 2021 version of the schedule with information at the top about how to text to reserve space. They do fill up way ahead. Text the number, and wait for a confirmation response. Usually best to text mid-week, when the person who does the scheduling is available. She is working at a spay/neuter clinic on the weekends.