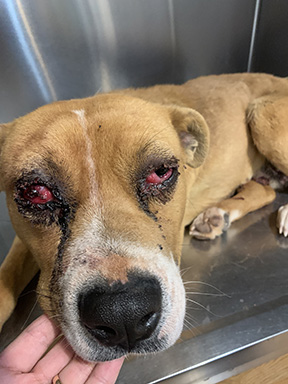 A kind person found Hans in March, 2021 and brought him into our care. When he was first brought in, his eyes were seemingly full of blood, he had bumps all over his body, and he was emaciated. Dr. Holgate quickly determined that the bumps on Hans's body were Canine Transmissible Venereal Tumor (CTVT), a sexually transmitted cancer that is contagious, but also is treatable with IV chemo. It is common in areas with many unfixed stray dogs, and we are very familiar with it on the Rez, but this was the first year where we saw dogs with tumors all over their bodies.
One part of treatment is neutering when the dog is healthy enough, and then treating by IV Chemo with Vincristine. Hans tolerated the course of treatment well and the bumps on his body decreased and gradually disappeared. The tumors in his third eyelids, which had appeared full of blood, also eventually resolved. Hans lived with Dr. Holgate and her husband Elward for months.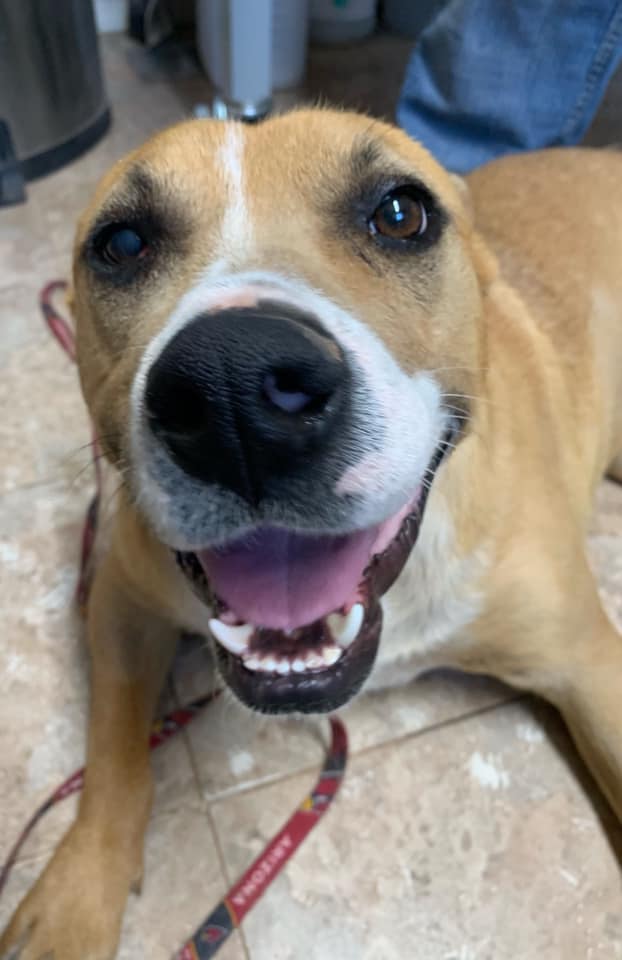 In the summer Hans began to exhibit further eye problems. His eyes turned cloudy and he had problems seeing. We took Hans to a Veterinary Opthalmologist in September. His eye pressures were sky high. By that time, Hans had become blind. Further testing for eye pressure in Flagstaff showed that the symptomatic treatment was not working and that Hans needed to have his eyes removed.
Aspen Veterinary Clinic in Flagstaff removed Hans' eyes and they were sent for biopsy. Ocular TVT is extremely rare. Special testing at the University of Michigan confirmed TVT as the source of his eye issues. Since Hans had previously been treated for TVT and was not having other symptoms, his prognosis was good, and no further treatment was needed at that time.
Hans has an amazing personality and is also extremely smart. During his time with his medical foster, Deb, he learned to respond to verbal commands for forward, left, right, and wait. Hans loves all people and other dogs and won over everyone he met. He then moved to a special foster home with Leslie and Stacy, who later adopted him.
At Leslie and Stacy's house, Hans grew very close with a dog named Fooze. Fooze is a previous TCHS alumni who was rescued as a stray after being quilled in the face by a porcupine. This led to Fooze losing one of his eyes. Hans and Fooze loved hanging out together and became best buddies. We are absolutely thrilled seeing Hans thrive in his special family. You can follow their further shenanigans on Instagram @gilumpfdogranch.