Upcoming clinics
The next Parker Project clinics will be in LeChee, December 2-3, and in Tuba City on December 16-17.
To sign up for spay or neuter, go to The Parker Project web site, click on the Schedule Appointment button near the top, and choose the service you need, spay (female) or neuter (male) and the approximate weight of your dog or cat. (You CAN use a PO box, even though the form says you can't. ) Space fills up ahead of time, so please sign up ASAP. Dates and locations only show up if there is still space available for the service you are requesting. If you have trouble submitting the form, email spayschedule@serengetifoundation or text (480) 569-4559.
---
A new collaborative clinic calendar is available at https://navajonationpets.com/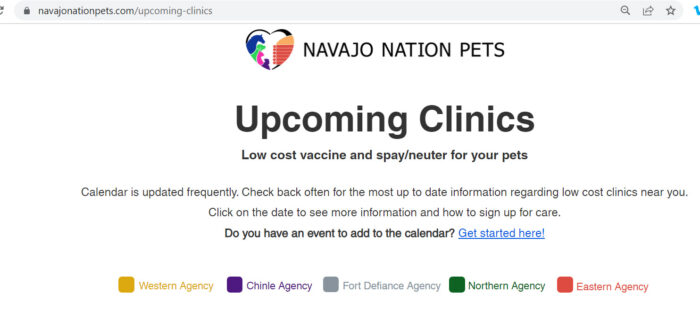 ---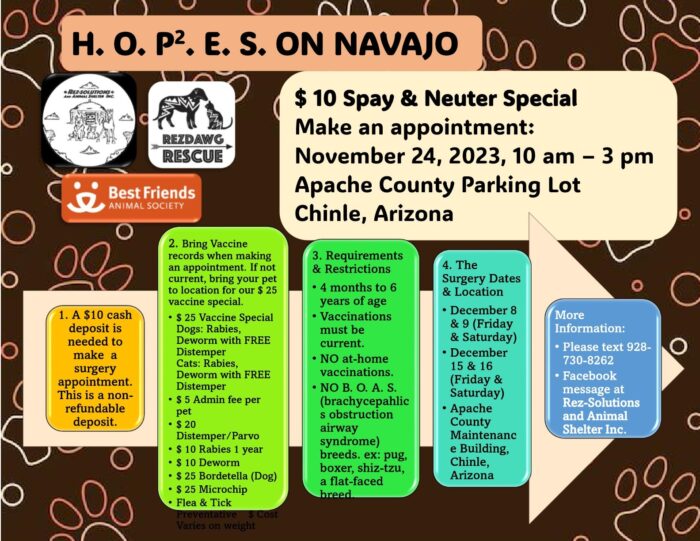 ---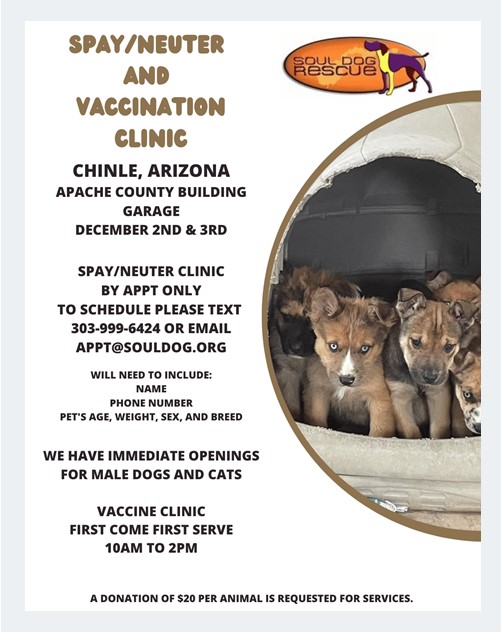 To reserve space at a Soul Dog clinic, text (303) 999-6424 or email appt@souldog.org.
---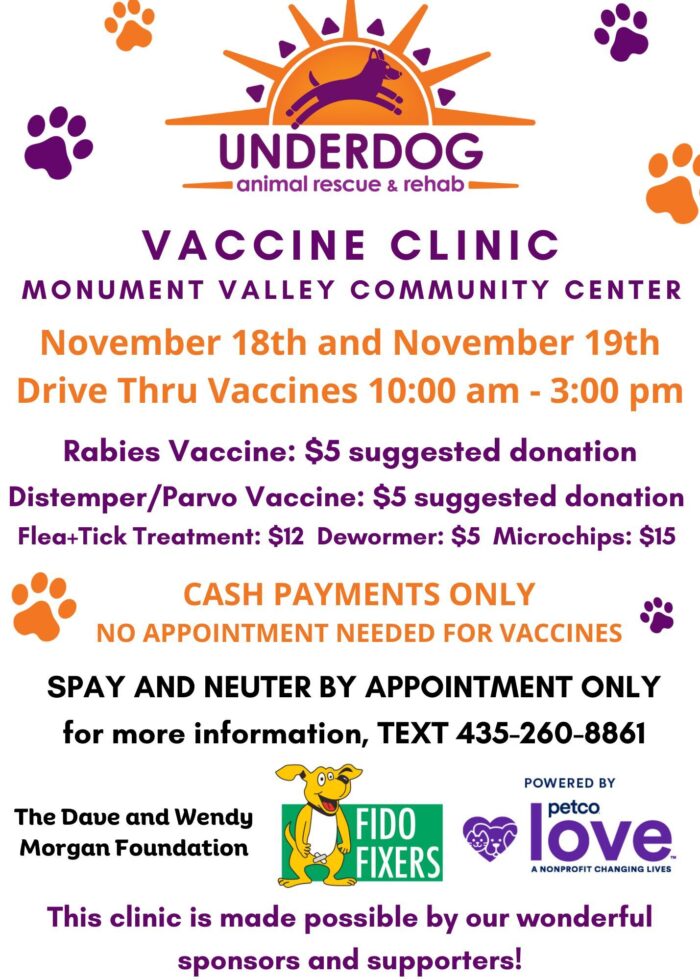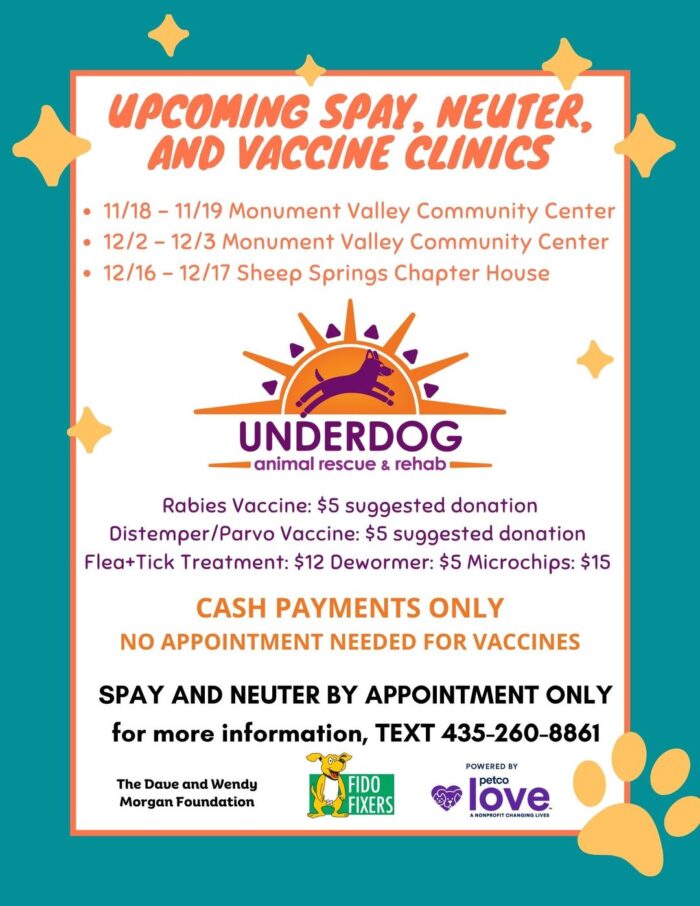 ---
More 2023 schedules will become available.
Get your animals vaccinated against common core diseases to protect them. The basic core vaccination for puppies and dogs is against parvo and distemper. Puppies need a full series of vaccinations beginning at 6-8 weeks old, after they are weaned, to be fully protected. Another core vaccination for puppies and dogs is against rabies, and that should first be given by 3-4 months of age, and then a year later. For cats, the FVRCP vaccination against 3 common very infectious and deadly diseases for cats, also should be given beginning at 6-8 weeks of age to keep them healthy.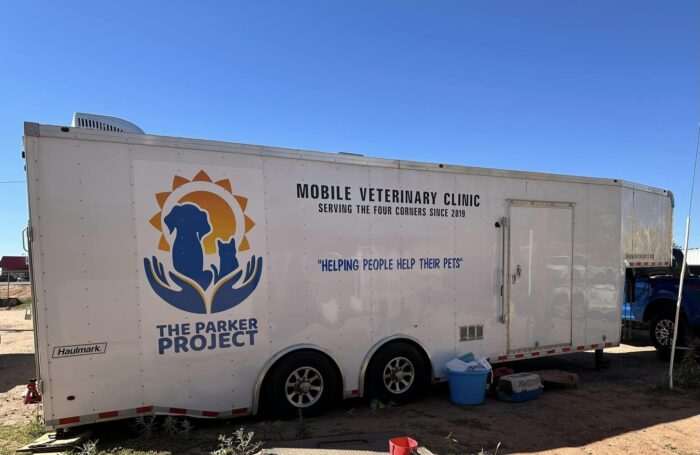 Reserve space online for your animals to be spayed or neutered at The Parker Project (click this link and then click on Schedule Appointment button on that page.) If you go to sign up, and those dates are not available for the kind of spay or neuter (dog or cat) you are looking for, that means that those dates have filled up for those slots. Spaces fill up way ahead! Look at the schedule and see if you are able to travel to other locations that still have space available.
The Parker Project (click this link and then click on Schedule Appointment button on that page.)
For spay/neuter in Kayenta, go to the Western Agency Spay/Neuter & Pet Resource Center during open hours, Wednesday-Sunday, 12:00-4:00, and get your name on a wait list, and pay a $10 deposit fee. That is how it is working as of 3/11/22. The center is located off highway 163 near the Kayenta transfer station, and is about 2 miles north of the highway 160/163 junction. Take highway 163 heading north from the 160/163 junction towards the Kayenta Transfer Station, turn there, and then first left. For vaccinations and wellness services, they are open 11:00-4:00 every day, no appointment needed.