Mission
Our mission is to end animal homelessness, suffering and overpopulation and to provide resources towards those goals.
More About Us
Tuba City Humane Society is an all-volunteer 501(c)3 non-profit rescue and foster group, located in Tuba City, AZ, on the Navajo Nation, with some foster homes in Tuba City and in Flagstaff, AZ. We do not have an animal shelter. Almost all of our animals receive initial veterinary care at our main veterinary services partner, Desert View Veterinary Clinic, which is also where we generally do intake. We rely on the help of numerous volunteers who rescue, foster, transport, donate, and generally help us extend a network of care to the animals needing our help. Our focus is on the western Navajo Nation, in and around Tuba City, also Coal Mine, Tonalea, Cowsprings, and sometimes in Kayenta. Tuba City is located in Coconino County, AZ, and the closest humane animal shelters serving Coconino County are High Country Humane and Coconino Humane Association, in Flagstaff, AZ.
Tuba City is located on the western side of the Navajo Nation in the Western Agency. The population of the census-designated place (CDP) was 7,964 in the 2020 census. It is the Navajo Nation's largest community, slightly larger than Shiprock, New Mexico, and the headquarters of the Western Navajo Agency. The Hopi town of Moenkopi lies directly to its southeast. Tuba City maintains two different time zones for half of the year, with most government services following the Navajo Nation in daylight savings time, while many local businesses keep standard time along with the state of Arizona and the nearby Hopi Reservation.
Tuba City is located about 80 miles northeast of Flagstaff, at an elevation of approximately 5,000 feet, on the southern Colorado Plateau. Geological formations, striated rock, and wind greet the visitor. Tuba City is also about 80 miles south of the town of Page, and Lake Powell, 80 miles from the Grand Canyon, and 100 miles from Monument Valley, Utah.
Tuba City sits high on a hill, with wide open views. Dinosaur tracks left by several different species lie preserved in sandstone 5.5 miles west of Tuba City off US 160. The presence of Tuba City's past is represented in the many old stone buildings and a historic trading post.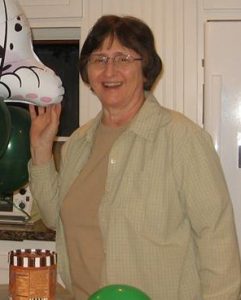 Tuba City Humane Society was founded in 1990 by Mary Jo Parys, a pediatric nurse who worked with Indian Health Services (IHS) in Tuba City for 35 years. Mary Jo, Sandy Burd, and Geneva Colorado were the main officers of the humane society, and rescued many animals, and provided foster care, veterinary care, and socialization. Most of the animals were transferred to Arizona Humane Society for adoption placement. A few special needs animals were accepted by Best Friends Animal Society.
Here is a link to an article from December, 1999, about Mary Jo Parys's efforts to help stray animals and bring mobile spay/neuter veterinary services to Tuba City.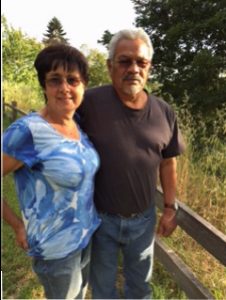 Sylvia and Willie Moore
In 2010, when Mary Jo retired and moved back to Nebraska, Sylvia Moore became the Director of Tuba City Humane Society.
Sylvia's years as the Director of Tuba City Humane Society have included lots of hard work and many accomplishments. Below are a few highlights.
2012 was a banner year for TCHS! We rescued 174 dogs, a few cats and a few horses, more than twice as many as last year. 20 dogs and cats were humanely euthanized because of untreatable illnesses or injuries. All our rescues continue to go to Noah's Ark Pet Adoptions in Glendale, AZ. All rescues are physically in perfect condition when they go to Glendale and are quickly adopted to their forever homes. In 2012, we took animals to Noah's Ark almost every week. Through Dr. Holgate's veterinary services, we spayed and neutered 422 animals in 2012. Thank you for your support!! We could not do it without you!
In August, 2013, unprecedented donation of 161,280 lbs. of Blue Buffalo dog food worth $495,130!! Huge Spay/Neuter Collaborative Event in Tuba City in November, 2013, with Best Friends Animal Society and Soul Dog Rescue. 185 dogs & cats were spayed or neutered, 836 vaccinations were done, 24 animals rescued and transferred to Colorado. 5 with broken legs taken to Best Friends to be treated and 2 returned to owners after recovery and the other 3 to be adopted. Here is an article in the AZ Daily Sun about this event.
On Dec. 13, 2013 Best Friends Animal Society in Kanab, Utah, contacted the Tuba City Humane Society stating that Blue Buffalo wanted to send 2 Swift semi trucks with 64,647lbs. of dog food. Best Friends also sent a truck from Kanab with 4 pallets of Purina dog food & 5 pallets of Nutri-Cal supplement. The total value of this donation was estimated to be around $163,000.00.
In 2013, we rescued 168 dogs and a few cats. 20 were humanely euthanized with serious injuries or illness. Our rescues now go to Second Chance in Flagstaff or Best Friends in Kanab, Utah for special needs animals. We also received $12,725 in grant money specifically earmarked for low cost spays and neuters at $45. Best Friends sent four 53′ trucks from Swift with dog food. Best Friends did give us some cat food and so did Second Chance. The total donations came to $436,525.00 in food which we disbursed to rescues, humane societies, fosters, Hopi villages, Hopi Vet. Services and Navajo Chapter houses.
In 2014, we rescued 162 animals. Out of these rescues, 142 were adopted through our placement partners, and unfortunately 20 had to be humanely euthanized because they were either too sick or injured. Through grant funds and donations, we were able to subsidize 268 spays & neuters.
Sylvia Moore, Director of Tuba City Humane Society, moved to Oregon at the end of 2014. Her work as Director continued, finding and acquiring grant funds to support subsidized low-cost spay/neuter services for residents of Tuba City and nearby areas, and managing donations so that Dr. Carol Holgate, veterinarian in Tuba City, and her husband Elward, can continue to rescue animals in need.
In 2015, Dr. Carol Holgate and Elward Holgate rescued and saved 91 dogs and 15 cats.
Leadership Change in 2016
In July, 2016, Jazmin Villavicencio and Rose Z. Moonwater transitioned the leadership of Tuba City Humane Society, to continue in its role of facilitating and coordinating rescue of homeless and stray animals in and around Tuba City, and applying for grant funding to support subsidized spay/neuter services to the public, provided by Dr. Carol Holgate of Desert View Veterinary Clinic.
In 2016, Tuba City Humane Society rescued 238 animals. We have begun to develop a foster home network, with about 5 foster homes in Tuba City and Flagstaff, and had 11 adoptions. We applied for and received 3 grants, one from the Tuba City Community Fund, and one from Arizona Pet Friendly License Plates for our subsidized low-cost spay/neuter program for the public, and a third grant from Arizona Community Foundation, to pay part of the veterinary costs of rescue for 100 animals. We also received more than $15,000. in private donations. We still continue to seek other grants and donations, and a sustainable way forward, in order to continue our rescue efforts.
2017
We had a very busy year, with 408 animals rescued. We are excited about slowly developing more foster homes in Tuba City and Flagstaff. In spring, 2017, we began a partnership with Arizona Animal Welfare League, which allowed us to help more animals. We are excited to have a no kill shelter partnership, and a lot of our animals went to AAWL and quickly were adopted. We also expanded our use of other veterinary partners in Flagstaff, with Kaibab Veterinary Clinic providing more services to more of our animals. We have attended some wonderful adoption events, including one at Subaru Flagstaff, and Barks and Brews in October, 2017, in Flagstaff. Because of the number of animals rescued, and many animals being very sick when rescued, our need for more donations for veterinary costs has skyrocketed. We still continue to look for a sustainable path forward. We are very grateful for all of the rescue partnerships, volunteers, donors, foster homes that have supported our mission and allowed us to help so many animals in need this year.
2018
We are having another busy year, and we are running way behind with our veterinary bills for rescued animals.We have helped several very sick and injured animals this year, including animals needing amputation, FHO surgeries, and treatment of animals hit by a car. This year, things have also evolved to where we are fostering through to adoption about 1/3 of the animals we are rescuing. We still only have a hand full of foster homes in Tuba City and in Flagstaff. In 2018, we helped 391 animals. We have had other leadership changes with Deborah Franklin and Kim Murdza becoming officers of Tuba City Humane Society, as the Vice-President and Secretary, respectively. We have participated in numerous adoption events including Barks and Brews, a Yoga Fundraiser with Papago Crossfit of Scottsdale, and the Continental Animal Wellness Center Open House. We have had some stellar business support this year in Flagstaff from Biff's Bagels, High Mountain Health dispensary, Kingsmark Kennels, and Moonmalas by Megan.
2019
In 2019, our intake was 412 animals. We are having another very busy year! We adopted out 101 animals. Almost every puppy and adult dog rescued this year was anemic, with most having one or more tick diseases. We ended up having to hold puppies much longer, to get them healthy, and therefore, we had fewer adoptions this year. We also had many dogs and pups with skin diseases, including ringworm, Sarcoptic mange, cheyletiella, and even dog lice, at the end of the year. We have never had so many pups with ringworm as this year, which we attribute to more moisture.
We are so grateful to our donors and supporters who make everything that we are able to accomplish possible. We responded to hundreds of requests for help this year. We were able to continue our spay/neuter program year round, with the support of grants from Arizona Pet Friendly License Plates, and the Tuba City Community Fund. We also were grateful to receive some grant funding through the Petco Foundation, and Reservation Animal Rescue – Partnership With Native Americans. Our biggest help and support was from individual private donors, who helped us to continue our work. We are very grateful!!
2020
2020 has been a very busy year. We helped 646 animals. We are down to just a few foster homes in Tuba City, and we really need more volunteers. COVID-19 has of course impacted everything, except for more requests for help! We are grateful to everyone helping, those who support our efforts, and rescue partnerships which help us to extend what we are able to do.
Shelter Animals Count Data for 2020
2021
2021 was our most challenging and busiest year ever–certainly a year of firsts! We rescued 775 animals, of which just under 200 were owner surrenders. We partnered with a very accessible mobile spay/neuter service provider, The Parker Project, and sponsored 7 weekend clinics, which also included vaccination clinics. In combination with services by Dr. Holgate, we paid for or subsidized more than 750 spay and neuter surgeries. More than 2800 vaccinations were given.
Unfortunately, the stray population is off the charts, due to the effects of many services being shut down because of COVID in 2020. The response to the mobile clinics was tremendous and we will be continuing them in 2022. Many of our shelter and rescue partners have been full all year, making it tough to find placement for all the animals needing help. We were fortunate and blessed to receive a lot of support to be able to help so many animals and families. Coconino Humane Society joined us at several of the mobile clinics to take in hundreds of animal surrenders.
Shelter Animals Count Data for 2021
2022
Busiest year ever!! Unfortunately, COVID impacts continue, and most animal shelters around the country have been full with an extended length of stay for animals, short-handed in staffing, and adoptions slowed. We do not have an animal shelter, and we are a small group of all volutneers. Our intake for 2022 was 829. The Parker Project has provided mobile spay/neuter/vaccination clinics at the To'Nanees'Dizi Chapter House every other month and we paid for more than 1040+ spay and neuter surgeries. We really need foster homes in Tuba City and Flagstaff to volunteer with us. We applied for and received a small grant to assist owners with basic veteirnary care and assisted many owners with veterinary care. Collaboration with many groups and animal shelters is what extends our reach and allows us to help as many animals as possible.