We have gotten way behind in posting our rescues–too busy! So, at least, let us showcase some of our awesome animals available for adoption right now in Flagstaff.
We have adult dogs Remi, and Rory, available for adoption.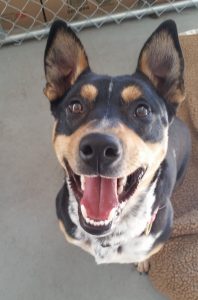 Hi I'm Remington but they call me Remi or Remi-Roo. You see, I'm a tripawed 2 yr old heeler x boy. I've had my neuter, shots and we'll an amputation after an accident.       I've been living the comfy life in Foster care so I could get well. I love soft fluffy blankets, and my head rubbed and chew toys. I also like to go for a jog or brisk walk. I love all people of all sizes. I have had some tough times when I was injured but I've bounced back. My favorite car rides are taking me to Doggie Day Camp. Lots of friends to run and play with.
If you would like to meet me and go for a walk that would be great. My Foster Mom will answer any questions you might have.
Thanks for reading about me.
Love Remi
Notes from Foster Mama
Remi is the happiest boy, he will do best with few stairs and a yard to play in. He loves balls and chew toys and running around with them. He sleeps in a closed crate in the family bedroom. And greets you in the morning with a huge smile. Remi has good behaviors but is puppy like in many ways . The world holds so many new experiences and he wants to greet them all. I hope you will consider being his guide. He loves playing with dogs of all sizes.
Remi is a Cattle Dog/Shepherd mix who is about 2 years old. He is being fostered in Flagstaff. He is up to date on vaccinations, and has been neutered and microchipped. Remi's adoption fee is $135 including microchip. If interested in Remi, please fill out the online adoption application here.
Rory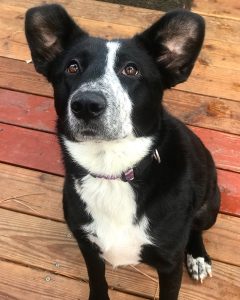 Say hello to Momma Rory! Rory is a 2-3 year old Border Collie mix, coming in at around 60 lbs, and those ears! They go up they go down and are just the cutest! She is a sweet love bug that really enjoys getting pet and snuggling up to you. She had her last litter of puppies, yay! And will be spayed next week!
She came to us from the Gap with a litter of puppies, skin and bones, but now is at a beautiful and healthy weight and is ready to be in a home with the love and care she deserves. Rory can be a little shy at first with new dogs but is playful and submissive. She loves to play with her puppies! We have seen her with adults, larger dogs, medium sized dogs and cats.
She is sneaky and smart so manages to open gates on missions to find cat food. Rory is fully house trained, knows sit, down and walks well on a leash. Rory will be up for adoption after her spay, but apply now and a meet can be scheduled after an initial conversation.
Rory is being fostered in Flagstaff. She is up to date on vaccinations, and will be spayed and microchipped soon and then available for adoption. Her adoption fee is $135. If interested in Rory, please fill out the online adoption application here.
See more of our adoptable animals on our Petfinder site here.